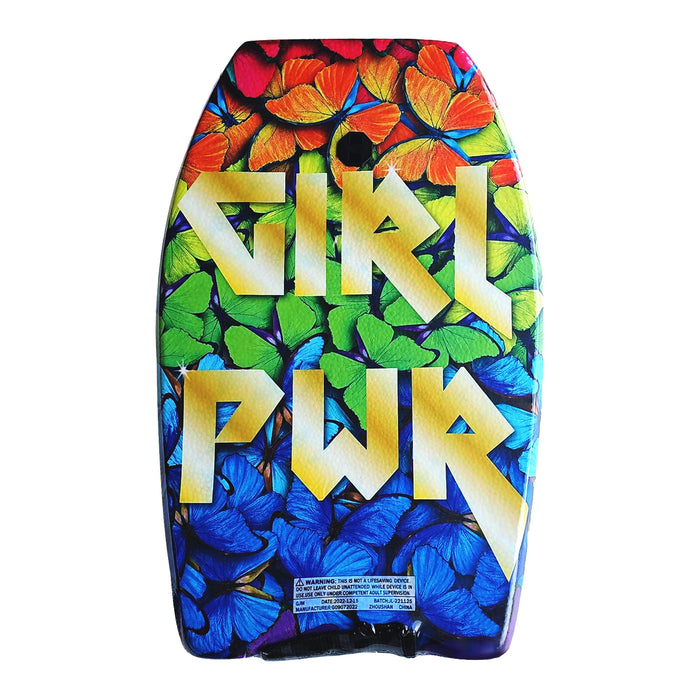 PMU 26 Inch Graphics Printed Bodyboard - Lightweight Wrist Leash Slick Bottom Boogie Board for Beach, Sea & Pool - Surfing Board for Kids, Teens & Adults Wave Conditions Pkg/1
Save

0

%
Save %
Original price
$29.99
-
Original price
$29.99
Introducing the Graphics Printed Bodyboard - where fun and imagination meet the waves for an unforgettable aquatic adventure! Specifically designed with young adventurers in mind, this bodyboard features a delightful array of colorful and playful graphics that will spark the imaginations of children of all ages. From friendly sea creatures to vibrant patterns, each design is carefully crafted to captivate young minds and create a world of excitement as they ride the waves.
Choking Hazard: This item contains small parts. Not for children under 3 years.

Excitingly unique - each bodyboard is a work of art! Printed Graphics will vary due to stock availability. Embrace the surprise of your one-of-a-kind design and ride the waves in style.
PMU Graphics Printed Bodyboard
Let your kids dive into a world of joy and wonder with our Graphics Printed Bodyboard. Watch their faces light up with glee as they embark on countless adventures, making memories that will last a lifetime. With the Kid's Graphics Printed Bodyboard, the waves become a canvas for their imagination and a gateway to endless summer fun!
Lightweight Wrist Leash Slick Bottom Boogie Board for Beach
Safety is our top priority, which is why this bodyboard is constructed with child-friendly materials that are both durable and buoyant. The soft, yet sturdy, foam core ensures a secure and comfortable ride, while the slick bottom surface enables effortless gliding across the water.
The Graphics Printed Bodyboard is lightweight and easy to carry, making it the perfect companion for little beach enthusiasts. Its manageable size allows children to handle it with confidence, promoting a sense of accomplishment and building their water skills.
Shipping Policy

We ship USPS, UPS and USPS for all our shipping to the United States and Canada. Please note shipments will be routed with USPS, UPS or FedEx. We use USPS First Class and Priority Mail when shipping to APO and AE shipping addresses (required by law). Party Magic USA will make every attempt to ship within 24-48 business hours of receiving your order. All Second Day orders are shipped same day if received by 1:00 PM EST.


Note: Due to the logistic issues we're currently facing delays and it can take more than 4-5 working days to process your orders!
Return Policy

Order Cancellations:

On Line orders, must be cancelled within 30 minutes following your online order process is completed to ensure your cancellation request is acknowledged prior to our order being processed. Please contact our customer service team through for further assistance with your order or to request a return authorisation number if your order was placed in error.

Returns for Buyer's Remorse:

All shipping charges are nonrefundable and are the sole responsibility of each Buyer. Non-specified shipping charges which are included within the product selling price will be calculated by product weight/dimension and destination charges and a 20% restocking charge will be applied. Please contact our customer service team to obtain a Return Authorization Number (RAN) and for fee return shipping label.

Returns for Manufactures Product Defect:

Manufacturers defects do arise and we are working hard to improve product quality control with our manufacturing partners to ensure 100% customer satisfaction. Party Magic USA provides quality products to all our valued customers', at very reasonable prices, coupled with superior customer service and to facilitate a request for product replacement or credit (when applicable) we may require photo images to be provided and or the inspection of all defective – damaged products, to determine a true manufacturing defect and to improve product quality. Please contact our customer service team to obtain a Return Authorization Number (RAN) and a "No Fee" return shipping label.

Returns for Expected Delivery Date Missed:

EZ 2- STEP RETURN Paid USPS Return Shipping (back to our facility). The returning order package must be "UNOPENED" to qualify for EZ 2- STEP RETURN STEP-1 Print "RETURN TO SENDER REFUSED PRRE-LATE" over (your address) the ship to address. Please do NOT write over the shipping label bar code or return to address to ensure timely processing and full refund of your return. STEP-2 - Place the returning package in or next to your mail box receptacle for your USPS Carrier pick up. All refunds will be processed directly to your account within (15) business days following the receipt of all pre-approved merchandise returned to our company.

Returns for Balloon Products:

We pride ourselves with the quality of our Branded Balloon Designs and our Balloon policy can be viewed on all our Balloon product pages in product description details, Balloons that pop due to over-inflation or improper filling do not qualify as defective and will not be replaced or issued credit. Improper Balloon filling and or, over inflation may appear as defective when it is not. Specifically, due to the nature of Balloon products we do not issue credit or refunds, except for Balloons which meet specific manufacturers defect guidelines or have been damaged during carrier shipment and have been returned to our quality control for proper inspection.

Returns for Balloons Colors:

UN-inflated Balloons appear darker in color, and when inflated "blown up fully" latex stretches and becomes many shades lighter. For example, purple will look black and the color magenta will look red. However, if once you "stretch" or "inflate" a balloon and you are not satisfied with your color selection, please contact our customer service team to obtain a return authorization number "RAN", or further assistance with your inquiry.